From the STL Biz Journal.
August 30, 2021, 09:02am CDT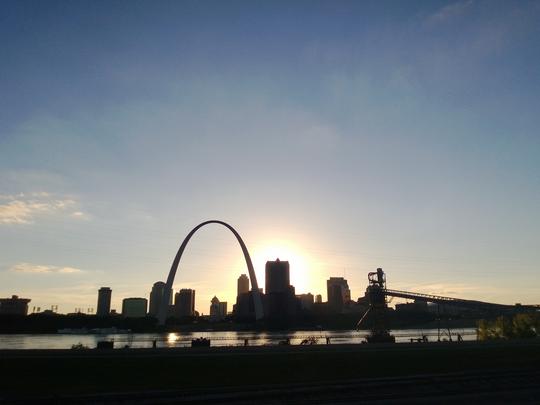 Flickr user Dave Herholz. Used under https://creativecommons.org/licenses/by-sa/2.0/
As St. Louis business leaders seek to grow the local economy, they've placed a focus on "inclusive growth."
That's a major tenet of the STL 2030 Jobs Plan published earlier this year by regional business group Greater St. Louis Inc. Within the plan's call for inclusive growth is a goal to expand entrepreneurship for underrepresented residents of the region, which is a mission several St. Louis organizations already have embarked upon.
As St. Louis' technology and entrepreneurial ecosystems have grown in recent years, so too have efforts to ensure the region provides an equitable and inclusive environment for entrepreneurs. The initiatives aim to reverse inequities – particularly in regard to which companies get funded and the makeup of its workforce – that the technology and entrepreneurship fields have long grappled with.
St. Louis Inno has compiled this list of groups seeking to aid St. Louis' underrepresented entrepreneurs with resources, mentorship and funding for racial and ethnic minorities, foreign-born, women, LGBTQ+ and military veteran entrepreneurs.
This list only includes resources with distinct missions and initiatives to help underrepresented founders and businesses. You can check out St. Louis Inno's Ecosystem at a Glance feature for a broader look at the organizations and resources that make up the region's technology and entrepreneurial community.
Accelerators/incubators
Diverse Business Accelerator at Greater St. Louis, Inc.: The accelerator provides a 12-week business development program for racially, ethnically and gender-diverse entrepreneurs. Its curriculum is designed to help companies with their expansion goals, marketing plans, networking, and access to capital and resources. The accelerator includes a final pitch event in which cohort companies have a chance to win nondilutive funding.
Elevate/Elevar Accelerator: Launched in 2020 by nonprofit WEPOWER, the Elevate/Elevar Accelerator is a six-month business development program for Black and Latinx entrepreneurs. It provides curriculum, connections, mentoring and access to capital to its cohort companies.
Square One: As the flagship program of the Center for Emerging Technologies, Square One designed to support early stage ventures and first-time entrepreneurs as they launch and grow their startups. The program emphasizes recruiting and assisting female entrepreneurs and minority business owners.
UMSL Diversity, Equity & Inclusion Accelerator: Established by UMSL Accelerate, the University of Missouri-St. Louis' entrepreneurship program, the DEI Accelerator provides $50,000 in nondilutive grants to St. Louis-area early stage startup founders from marginalized groups. Its cohort startups also participate in a business development program.
Chambers
Asian American Chamber of St. Louis: AAAC St. Louis supports St. Louis-based individuals and businesses owners from East Asian, Southeast Asian and South Asian communities and those who do business in Asia.
Heartland St. Louis Black Chamber of Commerce: The organization is designed to be a resource to help attract, create and support new and existing Black-owned businesses. Its resources include advocacy, education, networking and economic development initiatives.
Hispanic Chamber of Commerce of Metropolitan St. Louis: Founded in 1982, the Hispanic Chamber is a resource to aid and assist Hispanic businesses and entrepreneurs.
St. Louis Bosnian Chamber of Commerce: The chamber hosts events and gatherings and is focusing on boosting economic development for Bosnians in St. Louis.
St. Louis LGBTQ Chamber of Commerce: The chamber is an affiliate of the National LGBT Chamber of Commerce and provides networking, educational and professional development programming and events for businesses and entrepreneurs.
Networking, training and support groups
Grind + Growth: The nonprofit aims to minimize income inequality and spur economic development by providing resources and programs to boost minority entrepreneurship and financial skills.
International Institute of St. Louis: The Institute provides immigrant services, including economic development resources like business microloans and financing from a Women Entrepreneur Fund.
Justine Petersen: The nonprofit focuses on supporting Black- and other minority-owned small businesses in low-income neighborhoods. Its resources include small-business loans, credit building and training.
LaunchCode: The St. Louis-based nonprofit provides technology training and places aspiring computer programmers in apprenticeships and jobs. Its CoderGirl program focuses on educating women in the technology field.
Missouri Small Business Development Center: The center provides counseling, training and assistance to small businesses. The center says it "makes special efforts to reach members of socio-economically disadvantaged groups."
NPower: NPower focuses on providing free technology training for military veterans and young adults from underrepresented groups. It is based in New York, but has operations in St. Louis.
STEMSTL: Launched through local innovation hub BioSTL, STEMSTL focuses on ensuring equitable and inclusive access to STEM (science, technology, engineering and math) education and employment opportunities.
St. Louis Equity in Entrepreneurship Collective: Founded in 2016, the St. Louis Equity in Entrepreneurship Collective is a regional effort aimed at creating equitable and inclusive systems within ST. Louis startup and entrepreneurial ecosystem.
St. Louis Mosaic Project: An initiative of the nonprofit World Trade Center-St. Louis and managed by the St. Louis Economic Development Partnership, the Mosaic Project focuses on connecting foreign-born entrepreneurs to resources and mentoring them to assist with starting and growing their businesses.
St. Louis Women in Tech Exchange: A networking group for women working in St. Louis' technology industry.
The BALSA Foundation: The foundation says its mission is to advance social equity and prosperity locally by assisting first-time entrepreneurs launch and expand their companies.
Vetbiz: Vetbiz works with veterans to help them transition from their time in the armed services to careers in business. It provides training, counseling and mentorship.
Vision: An annual inclusion symposium that brings together entrepreneurs from underrepresented communities.
VOICES: VOICES is a St. Louis entrepreneurship affinity group that facilitates dialogue and networking among minorities working in St. Louis' startup ecosystem.
Funding
Arch Grants: The St. Louis-based nonprofit awards $50,000 equity-free grants to early stage companies through its Arch Grants Startup Competition. It recently received a $1 million grant from Bank America and plans to use the funding to provide five additional grants this year that will be awarded to Black and Latino-led businesses. About 65% of the companies that have received Arch Grants are led by individuals who are women, people of color, immigrants or veterans, according to the nonprofit.
BALSA Grants: These nondilutive grants provide $1,000 to first-time entrepreneurs in the region. Grant finalists also participate in a 10-week training program and receive mentorship.
Elevate/Elevar Capital: Launched by WEPOWER, Elevate/Elevar is a $1.5 million investment fund to provide capital to Black and Latino entrepreneurs, particularly those operating in north St. Louis. Its investment fund focuses on providing entrepreneurs and their businesses with between $50,000 and $200,000 in financing.
KIVA: Nonprofit WEPOWER has established a partnership with the nonprofit lending platform Kiva to help local businesses access interest-free micro loans. Kiva operates a crowdfunding platform that provides small-business owners and entrepreneurs the ability to raise loans that carry no interest.
St. Louis CDFI Coalition: The coalition says it consists of Community Development Financial Institutions (CDFIs) that provides capital and business development resources for St. Louis nonprofits, small businesses and communities. CDFIs provide resources and services to underserved areas.