---
Number 102                            January 15, 2021                                   St. Louis
---
MLK's Message of Economic Justice is a Call to Action for Every CDFI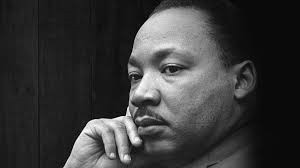 "The time has come to civilize ourselves by the total, direct and immediate abolition of poverty."
                                                                  – Martin Luther King, 1967
As we as a nation celebrate the legacy of Martin Luther King this weekend, we at Justine PETERSEN must not only celebrate his legacy, but continue the commitment to pursue economic justice for all.  King spoke of such salient economic inequality over 50 years ago, and here we are today still bearing witness to a racial wealth gap that continues to widen.
Justine PETERSEN, along with peer CDFIs (community development financial institutions) across the nation, must answer the call to action to advance asset-building and wealth-building on every level, from credit-builder loans, to first-time homeownership, to the growth and expansion of small businesses.  We must interface with partners in mainstream finance and collectively solve the seemingly unrelenting pandemic of economic injustice.  This is not about a vaccine.  This is about a solution.
---
Join Randen Click of Justine PETERSEN for Homeownership Readiness Webinar January 21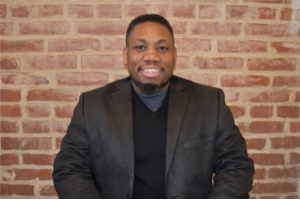 Are you considering homeownership?  Or know someone who is?  If so, join JP's Housing Manager Randen Click for a "Homeownership Readiness Webinar" on January 21.  Randen's webinar will comprehensively discuss the advantages of homeownership, affordability and down payment/closing costs assistance.  Known for his affability and penchant for details, Randen will be available to answer questions and help problem solve.  And if you can't make it this month, try next month.  The webinar will be offered every third Thursday of the month.  For more information, contact Randen at rclick@justinepetersen.org or 314.533.2411, ext. 138.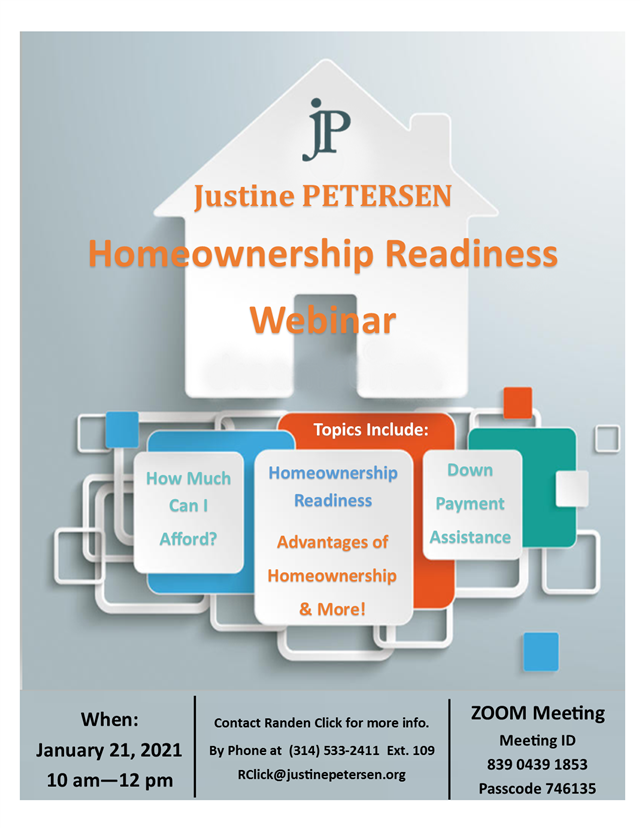 ---
JP is Now Accepting Applications for PPP Round 2
Justine PETERSEN is now accepting applications for Round 2 of the Paycheck Protection Program.  Small businesses negatively impacted by the Covid 19 pandemic may apply for financial assistance to address payroll gaps.  Small businesses that applied in the first round of PPP may also apply to the second round.  Additonally, businesses that have only one employee or are a sole proprietor may also apply, with ultimate approval based on the submission of required documentation.  To learn more or to make application, please contact Cait Baker at cbaker@justinepetersen.org or 618-741-2159.
---
Justine PETERSEN's Americorps Volunteer Dakotah Weese Sets Sail on his Next Adventure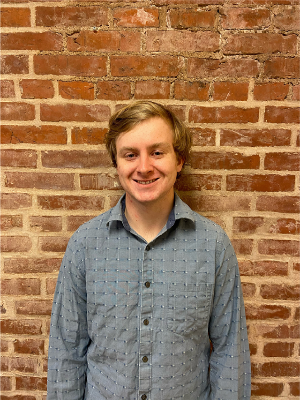 Dakotah Weese is about to set sail on yet another Americorps journey.  Literally.  Well, almost literally.  Dakotah will be living aboard a WW2 era tugboat docked in the Sitka Harbor in Sitka, Alaska.  Dakotah's new assignment will be with the Youth Advocates of Sitka, where he will tutoring/mentoring and assisting with the coordination of events for an afterschool program.  We are grateful to the contributions Dakotah made to our JP mission during his service, and we wish him the best on his next chapter.
---