---
Number 90                            October 23, 2020                                   St. Louis
---
Dieterich Bank $250k Investment Fully Deployed to Covid-Impacted Illinois Businesses
Justine PETERSEN/Great Rivers Community Capital successfully deployed a recent $250k investment from Dieterich Bank to Illinois businesses impacted by the Covid 19 pandemic.  As a participating CDFI (community development financial institution) in the Illinois Department of Commerce and Economic Opportunity's (DCEO) Illinois Small Business Emergency Loan (ISBEL) program, Justine PETERSEN/Great River Community Capital has assisted nearly 50 Illinois businesses with loans totaling $1.5M.  Justine PETERSEN created a special purpose vehicle (SPV) to capitalize the effort, allowing bank partners to invest.  Justine PETERSEN is most grateful to Dieterich Bank for supporting our mission to serve small businesses in central and southern Illinois.
---
Justine PETERSEN Staffer Shawna Collier Volunteers as Judge with Boys & Girls Clubs "Kidpreneurs" Program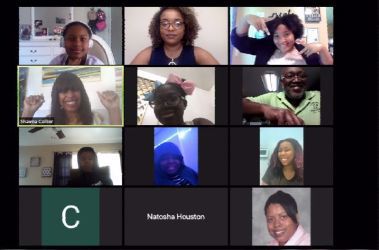 Budding young entrepreneurs recently partook in the Boys & Girls Clubs of Greater St.Louis' "Get the Bag:  Start a Business" virtual course. Participants competed to receive cash and prizes from BGCSTL, which helped fund their summer businesses.
Led by instructor Nakesia Daugherty and assistant Nia Coleman of BGCSTL, participants spent six weeks studying the elements of a good marketing plan, and whether providing a product or service, members learned how to attract their target market with their brand, marketing mix (product, price, place, and promotion), and sales strategies.
The "Get the Bag" program culminated when members proposed their business ideas to a panel of judges, including Shawna Collier of Justine PETERSEN, who over the course of six weeks, provided feedback and advice regarding the members' developing brands, including their company names, product names and descriptions, target customers, logos, slogans, and mission statements. During the Shark Tank-like competition, the kidpreneurs were able to shine with brilliant pitches that impressed the panel of judges.  Here's to the next generation – or two – of successful business owners!
---
Join Randen Click of Justine PETERSEN for Homeownership Readiness Webinar November 20
Are you considering homeownership?  Or know someone who is?  If so, join JP's Housing Manager Randen Click for a "Homeownership Readiness Webinar" on November 20th.  Randen's webinar will comprehensively discuss the advantages of homeownership, affordability and down payment and closing costs assistance.  Known for her his affability and penchant for details, Randen will be available to answer questions and help problem solve.  For more information, contact Randen at rclick@justinepetersen.org or 314.533.2411, ext. 138.
---
Pandemic Pet Pic (the "other" PPP)
Ok, this takes the "Pandemic Pet Pic" to new levels in that this week's pic not only includes an adorable puppy, but a wildly adorable granddaughter!  Rob Boyle, Founder, CEO and grandpa of Zara and grand-dog-pa of Basil, has his hands full, literally and figuratively, with ultimate cuteness and youthful zeal.  Did we really think the pandemic could be this fun?  Rob, Zara and Basil:  thanks for delivering smiles to a world most in need.
---